Everything about Safaris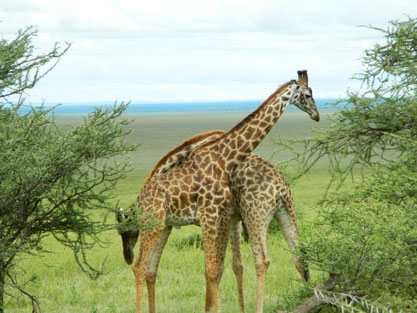 Expected expenses 
The expected expenses depend on number of days and people and accommodation. If a group is choosing to camp it will approx. be 200US pr. Day. However private tours and lodges are of course more expensive and also depending on the different lodges. The price includes park entrees, overnight fees, etc. 
Number of days
A common question is often; "How many days to do a safari?" Usually people choose between 2-5 days depending on budget and interest. A large amount of time will be spend driving and therefore this must be taking in consideration, however more days allow you to explore more National Parks. In 5 days you will have time to explore the entire northern part of Tanzania hereunder The Tarangire National Park, Norongoro Crater Conservation, Serengetti National Park and Lake Manyara National Park. 
---
Time of the year
So, when to go? There is no certain time that is better than any other – you can go all year around. However, we recommend avoiding rain season, which is April, May and November. Also be aware of high season and the therefore also higher prices. 
Accommodation and Food
You can chose to either camp or stay at lodges. Both accommodations include breakfast and dinner at the campsite or lodge. If choose to camp you will be served toast, pancake, jam, coffee and tee for breakfast. For dinner you will be served with soup as a started and for the main course mostly traditional African potato/rice/pasta dishes will be served. If you chose to stay at lodges, then you will have larger options. No matter if you chose to camp or to stay at a lodge you will during the day be provided a lunchbox. There are always taken cares for special needs; vegans, vegetarian etc. Just make sure to inform concerning this. 
Tips
A rule of thumb is to tip around 10USD per. Person per Day. All the workers participating in your safari adventure including your guide, cook etc will be dividing the tip.
---
---
Länge: Wie lang sollte meine Safari sein?
Eine der meist gestellten Fragen ist: "Wie viele Tage soll ich auf Safari gehen?".  Die meisten Touristen gehen für 2 bis 5 Tage auf Safari. Es hängt natürlich immer von deinen Interessen und deinem Budget ab. Man sollte immer berücksichten, dass der Anfahrtsweg zum Park auch einige Zeit in Anspruch nimmt. Im Grunde gilt natürlich: Je mehr Tage du unterwegs bist, desto mehr Orte kannst du entdecken. Während einer 5-tägigen Safari könntest du beispielweise den kompletten nördlichen Teil Tansanias entdecken. Dazu zählt der Tarangire National Park, das Naturschutzgebiet um den Norongoro Krater, der Serengetti National Park und der Lake Manyara National Park.
Jahreszeit: Wann ist die beste Zeit für eine Safari?
Man kann nicht pauschal sagen, wann die "beste" Zeit ist, um eine Safari zu machen. Tansania ist generell das ganze Jahr eine Reise wert. Wir empfehlen jedoch, Tansania nicht während der Regenzeit zu bereisen. Diese ist von April bis Mai sowie im November. Du solltest zudem berücksichtigen, dass die Preise in der Hauptsaison deutlich höher sein können als in der Nebensaison.
Unterbringung und Verpflegung
Du hast immer die Wahl zwischen einem Zeltcamp oder verschiedenen Lodges. Frühstück und Abendessen sind in allen Unterkünften inklusive. Das Frühstück in einem Zeltcamp besteht meistens aus Toast, Pfannkuchen, Marmelade und Kaffee oder Tee. Zum Abendessen wird meistens eine Suppe als Vorspeise und ein typisch afrikanisches Hauptgericht serviert. Je nach gebuchter Lodge sind die Gerichte hochwertiger und abwechslungsreicher.  Während deiner Safari wird dir zur Mittagszeit eine Lunchbox mit Obst und einem Sandwich (oder Ähnlichem) gereicht. Auf besondere Wünsche oder Allergien wird immer Rücksicht genommen. Bitte teile uns jegliche Besonderheiten im Vorfeld mit.
Trinkgeld
Generell gilt: 10 $ Trinkgeld pro Tag pro Person. Alle an der Safari beteiligten Personen, wie der Koch, dein Guide, etc., teilen sich dann dieses Trinkgeld.