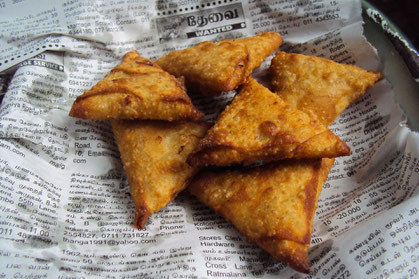 Are you a foodie? Or just generally interested in different food cultures? Well, keep reading an learn about the 7 must eats in Tanzania.
1. Chapati
The traditional pancake / flatbread of the country. Chapati is made out of wheat, water and salt, and cooked in oil. It is often to find in the morning, but is delicious as bread for soup.
2. Banana beer
Yes, you read it correctly. In Tanzania there are many different sorts of bananas and some are used to make banana beer. However banana beer does not have a high concentration of alcohol. 
3. Samosa
Samosa is a triangle of dough with filling fried in oil. The filling typically consists of onions, peas, potatoes and spices. Samosa is often cooked as a vegetarian dish, but it can also be cooked with meat, most often mutton or chicken.
4. Vitumbua
Vitumbua is a coastal east-African dish made of rice or rice flour and coconut. They are delightfully delicious and is a nice alternative to a afternoon sweet snack or mornings pastry.
5. Pilau
Tanzanian pilau rice is often difficult to separate from its Indian roots. However, when it comes to African cuisine, pilau is East Africa's ubiquitous rice dish and it often extends beyond its coastline from Zanzibar into the Indian Ocean islands such as Mauritius. Tanzanian pilau has slight nuances from its Indian counterpart. Other pilau recipes will often include bay leaves, saffron, ground coriander seed and turmeric.
6. Pumpkin soup
Noting much to explain here, other than it is stunningly good, very tasty and made out of local gigantic pumpkins. Try it with Chapati. 
7. Chips mayai
Chips mayai is a common food found in Tanzania, East Africa. Basically it is an omelette with French fries. Chips refer to what the Brits call French fries. Mayai means egg in Kiswahili.
Isst du gerne unterschiedlichste Gerichte von anderen Ländern? Dann solltest du unbedingt diese sieben, typisch tansianischen Gerichte probieren:
1. Chapati
Chapati ist ein traditionell gebackener Pfannekuchen. Der Teig wird aus Mehl, Wasser und Salz hergestellt und in reichlich Öl gebacken. Normalerweise wird dieses Gericht zum Frühstück gegessen. Es schmeckt aber auch sehr lecker zu einer Suppe.
2. Bananenbier
Ja, du hast richtig gelesen. In Tansania gibt es viele verschiedene Bananensorten. Aus verschiedenen wird hier Bier hergestellt. Der Alkoholgehalt von diesem Bier ist im Gegensatz zum herkömmlichen Bier eher gering.
3. Samosa
Samosa ist eine gefüllte, dreieckige Teigtasche, welche in Öl gebacken wird. Meistens sind diese mit Zwiebeln, Erbsen, Kartoffeln und verschiedenen Gewürzen gefüllt und bei Vegetatiern sehr beliebt. Es gibt sie aber auch gefüllt mit Lamm- oder Hähnchenfleisch.
4. Vitumbua
Vitumbua ist ein ostafrikanisches Gericht aus Reis (oder Reismehl) and Kokosnuss. Es schmeckt super lecker und ist eine super Alternative für einen süßen Snack am Mittag. Auch zum Frühstück ist das Gericht sehr zu empfehlen.
5. Pilau
Der tansanische Pilaureis hat seine Wurzeln eigentlich in Indien. Das Gericht spielt eine sehr große Rolle in der ostafrikanischen Küche. Auch auf Sansibar und sogar über den indischen Ozean hinaus bis Mauritius ist dieses bekannt und gern serviert. Der tanzanische Pilaureis ist dem indischen Pilau wie gesagt sehr ähnlich. Es gibt jedoch auch viele andere Pilau-Gerichte. Zum Beispiel gekocht mit Lorbeerblättern, Safran, Koriander oder Kurkuma.
6. Kürbissuppe
Hier müssen wir ja nicht viel erklären. Die tansanische Kürbissuppe ist super lecker und meistens aus riesen großen, regionalen Kürbissen gemacht.
7. Chips Mayai
Chips Mayai ist einer der bekanntesten Gerichte hier in Tansania. Im Grunde besteht es aus Pommes, welche in einem Omelett gebacken sind. Mayai bedeutet Ei in Kiswahili. Chips bedeutet ganz einfach Pommes.