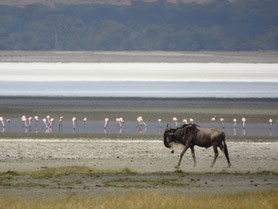 The great natural diversity and wildlife in Tanzania is definitely enough to take your breath away. Since the 1920s, Lake Manyara area was used for sports hunting. 1960 it was given the National Park status. 1974 the NP was enlarge by approx. 550ha at it's southern end  The majority of the land area of the park is a narrow strip running between the Gregory Rift valley wall to the west and Lake Manyara, an alkaline lake, to the east. The national park only includes the northwest quadrant of the lake. 
During the safari our guests excitedly searched – and found – a sign of wildlife in the immense vastness of the landscapes. Nobody will ever be disappointed! Around the beauty of the lake they saw baboons, blue monkeys and flamingo birds. While they enjoyed their safari, we brought them to the lodge. There they spent a peaceful night with the sound of wildness around. In the early morning, when the sun came out, they were already sitting in the safari car enjoying their trip through the National Park heading back to Arusha.  
---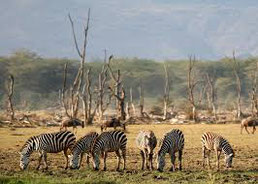 Sowohl die Tierwelt als auch die natürliche Vielfalt Tansanias wird dir definitiv den Atem rauben. Seit den 1920er Jahren wird das Gebiet des Manyara-Sees für die Sportjagd genutzt und erhielt 1960 den Status eines Nationalparks.1974 wurde der Nationalpark im südlichen Teil um ca. 550 ha vergrößert. Der Großteil des Parks besteht aus einem schmalen Landstreifen. Dieser erstreckt sich zwischen der Talmauer des Gregory Rift im Westen und dem Lake Manyara, einem alkalischen See, im Osten. Allerdings gehört nur der nordwestliche Teil des Sees zum Nationalpark.
Während der Safari suchten unsere Gäste gespannt nach wilden Tieren und haben diese in der Weite der Landschaft natürlich auch gefunden. Enttäuscht wurde hier niemand. Rund um den See haben sie eine große Schar von Flamingos, Pavianen und sogenannten "blue monkeys" entdeckt. Während die neu gewonnen Eindrücke von der Safari genossen wurden, fuhren wir unsere Gäste zu ihrer Lodge. Umgeben von den Geräuschen der Wildnis verbrachten sie hier eine friedliche Nacht. Als die Sonne früh morgens aufgegangen war, saßen sie bereits im Safari-Auto und genossen die Fahrt durch den Nationalpark zurück nach Arusha.