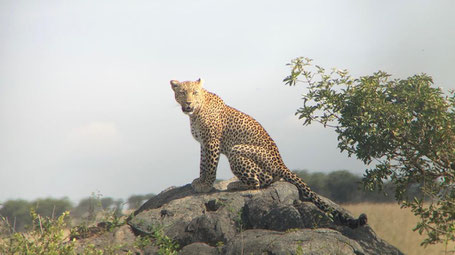 Setting off on an early friday morning, a group of guests excitedly climbed into the safari car. Our destination for today: The Serengeti National Park in Tanzania. The great natural diversity and the wildlife in the National Park is absolutely breathtaking and is definitely one of the places you need to start with at your bucket list. The NP was established in 1952 and is home to the greatest wildlife spectacle on earth: The great migration of wildebeest and zebra. The resident population of lion, cheetah, elephant, giraffe, and birds is also impressive. 
 Our guests excitedly searched the wide expanse for any sign of wildlife and weren't left disappointed! They were also lucky to see the Big 5 which is nearly every person's dream. As they kept on enjoying their safari we went to our campsite. There they spent a peaceful night with the sound of wildness around. In the early morning, when the sun came out, they were already sitting in the safari car enjoying their second day at the Serengeti national park. After they were able to see the big cats, lions and elephants, they took their way back to Arusha in the comfortable safari-car - happy and satisfied. 
---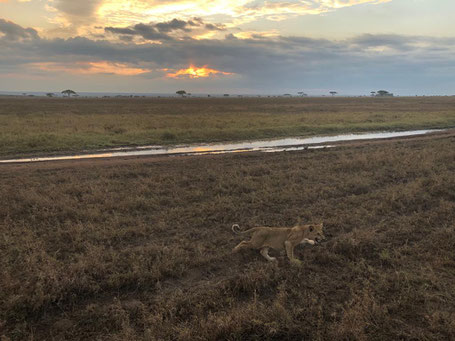 Am frühen Freitagmorgen machte sich eine Gruppe unserer Gäste in freudiger Erwartung auf, um den Serengeti-Nationalpark in Tansania zu entdecken. Die Tierwelt und die natürliche Vielfalt des Nationalparks ist unglaublich beeindruckend, weshalb ein Besuch des Serengetiparkes ein absolutes Muss auf deiner To-Do-Liste in Tansania ist. 1952 wurde der Serengeti Nationalpark in Tansania gegründet und beherbergt eins der größten Naturschauspiele der Welt: Die große Wanderung der Gnus und Zebras. Die beheimaten Lebewesen wie Löwen, Geparden, Elefanten, Giraffen und verschiedenen Vogelarten ist ebenfalls sehr beeindruckend.
 
Unsere Gäste suchten gespannt nach wilden Tieren und hatten sogar das Glück die Big 5 zu sehen. Davon träumt wohl fast jeder. Während die neu gewonnen Eindrücke von der Safari verarbeitet wurden, fuhren wir unsere Gäste zu dem Campingplatz zurück, wo sie eine ruhige Nacht mit den Geräuschen der Wildness verbrachten. Als die Sonne früh morgens aufgegangen war, saßen sie bereits im Safari-Auto und genossen ihren zweiten Tag im Serengeti-Nationalpark. Sie bekamen die Chance Wildkatzen, Löwen und Elefanten zu sehen. Nach dieser aufregenden Tour durch die Serengeti fuhren sie glücklich und zufrieden zurück nach Arusha.