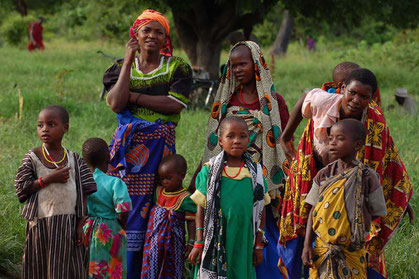 With an estimated 8.9 million people around the Southeastern African Great Lakes Region, the Sukuma is the largest ethnic group in Tanzania. The greatness of the tribe has really evolved since all the small, independent chiefdoms in this region were grouped together and perceived as a unit under the colonial government of Tanzania in 1946. The Sukuma believe in Spirit Possession & have a holistic approach in their beliefs of seeing everything as interconnected; natural and supernatural alike. This belief that we are all interconnected, by spirit or body, is reflected in the fact that killing is considered very taboo in Sukuma life. There is a Kiswahili proverb, "Mchimba shimo huingia mwenyewe" (The one, who dig's a well/ hole/ grave gets into himself). That means, if someone plans evil, this evil will destroy the one who planned it. The Sukuma people also believe that the elderly have the responsibility to protect the young people. Any actions against this will be betrayal of the individual and the entire Sukuma community. Among the Sukuma, children of different ages and from different families come together during playtime. At such times, they sing, tell stories and engage in riddling activities. These activities entertain children besides making them creative. 
---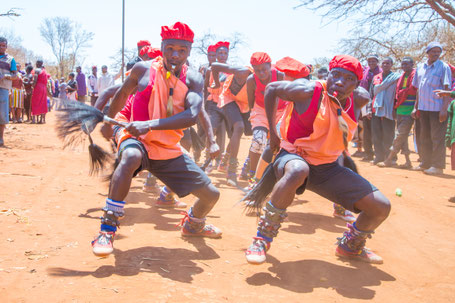 geschätzten 8,9 Millionen Menschen in der südöstlichen afrikanischen Region der großen Seen ist die Sukuma die größte Mit ethnische Gruppe in Tansania. Seitdem alle kleinen, unabhängigen Stämme dieser Region 1946 unter der Kolonialregierung Tansanias zusammengelegt und als Einheit anerkannt wurden, hat sich die Größe des Stammes nennenswert vergrößert. Das Volk der Sukuma glauben an eine Geistbesessenheit ("Spirit Possession") und sehen alles als verbunden an. Sei es natürlich oder übernatürlich. Ihrem Glauben nach sind wir alle durch unseren Geist und unseren Körper  miteinander verbunden. Dadurch gilt das Töten bei den Sukumas als ein absolutes Tabu. Es gibt ein kiswahilisches Sprichwort: "Mchimba shimo huingia mwenyewe" (Wer einen Brunnen / ein Loch / ein Grab gräbt, gräbt es auch für sich selbst). Dies bedeutet, dass falls man etwas böses plant, dieses "Böse" denjenigen erreichen wird, der es geplant hat.
Die Sukuma sind der Überzeugung, dass die älteren Menschen die Verantwortung haben, die Jüngeren zu schützen. Jegliche Handlung dagegen wird als Verrat des Einzelnen und somit der gesamten Sukuma-Gemeinschaft gesehen. Bei den Sukuma treffen sich Kinder unterschiedlichen Alters und verschiedener Familien zum Spielen. In solchen Zeiten singen sie, erzählen Geschichten und rätseln gemeinsam. Diese Aktivitäten sollen die Kinder unterhalten und ihren kreativen Geist fördern.