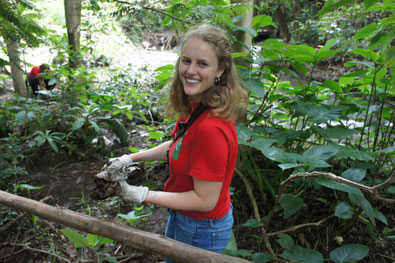 On a beautiful Friday morning, we walked from our hostel to the daladala station (local bus) and took a daladala up to Sanawari, a station in Arusha town. From there we walked to Themi living garden. It is a hidden small garden with a small nearby restaurant in a beautiful green space of Arusha. Taking a lunch there in the nature is so amazing as you enjoy it alongside the beautiful river. After rainy season, everything is green and fresh now. There is nothing better than the smell you get in a forest after heavy rain.
---------------------------------------------------------------------------------------------------------------------------
 An einem schönen Freitagmorgen sind wir von unserem Hostel zu einer Daladala Bus Station gelaufen und fuhren nach Sanawari, einem Stadtviertel in Arusha Stadt. Von dort aus sind wir zum Themi Living Garden gelaufen. Dies ist ein versteckter kleiner Garten mit einem kleinen nah gelegenen Restaurant in einer wunderschönen Grünanlage von Arusha. Den Mittag verbrachten wir an einem schönen Fluss und haben in der Natur zu Mittag gegessen. Nach der Regenzeit ist hier alles sehr grün und es gibt doch kaum etwas besseres als den Geruch von frischem Regen.
---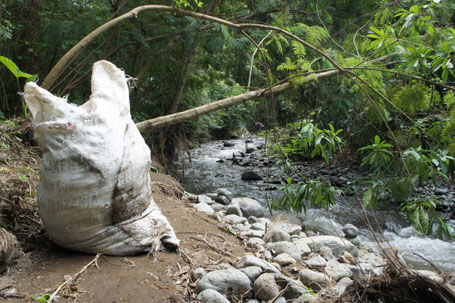 The rising water level of the river washed in a lot of plastic trash over the last weeks. Different items such as plasticbottles, shoes, clothes and plastic bags were therefore lying around all over the garden. We were excited to experience the nature in the garden and remove all the rubbish in the forest and around the river. We made our hands dirty and had a fantastic lunch afterwards. They served fresh organic vegetarian lunch for us. It is not just for the tasty food, the quiet sound of the river and the trees that you should visit this place. Themi Living Garden is a women-lead community centre. We also got painted post cards as appreciation gift from the Themi Living Garden artists. After the successful cleanup, we walked down to the clock tower, heading to Fifi's, a small restaurant, to have a nice cup of freshly brewed coffee as we experienced a little bit of cold weather. It was the perfect thing to do to feel warm again. And we were all ready to head home with our faces full of smiles. 
Der steigende Wasserstand des Flusses hat in den letzten Wochen viel Plastikmüll angespült. Verschiedene Gegenstände wie Plastikflaschen, Schuhe, Kleidung und Plastiktüten lagen überall im Garten herum. Da wir die Natur rund um den Garten sehr schön fanden, haben wir beschlossen den Müll im Wald und am Fluss zu beseitigen. Nachdem wir uns die Hände schmutzig gemacht  haben, haben wir ein fantastisches Mittagessen genossen. Sie servierten uns ein frisches, vegetarisches Bio-Mittagessen. Nicht nur wegen des leckeren Essens, des leisen Rauschens des Flusses und der Bäume solltest du diesen Ort besuchen. Themi Living Garden ist ein von Frauen geführtes Gemeindezentrum. Zusätzlich haben wir bemalte Postkarten als Dankeschön von den Themi Living Garden Künstlern bekommen. Nach der erfolgreichen Aufräumaktion sind wir zum Glockenturm gelaufen und statteten einem kleinen Restaurant mit dem Namen Fifis ein Besuch ab. Hier wärmten wir uns mit einer leckeren Tasse frisch gebrühten Kaffee auf. Danach machten wir uns mit einem Lächeln im Gesicht bereit für den Heimweg.