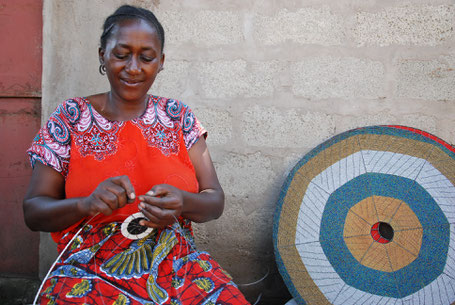 A project created to empower women and give them the opportunity to provide for themselves and their families, African Wear Design has had a positive impact on so many lives. Founded in 2015, the project offers widows, single mothers and young women sewing machines and a place to grow their skills and create and design their own clothes, jewellery and more. A few volunteers from Viva Tanzania, Jen, Ryan and Nicole, were lucky enough to visit Afrikan Wear Design. To the project itself it is easy to get to, only a short daladala ride away and a five minute walk from the main road. They were immediately welcomed by Mama Stevens with a warm smile and made to feel right at home before given a tour of the work space.

Then, it was time for Ryan to attempt to make a scarf using a very intricate machine. To put it kindly, he was not good. But it was a brilliant experience and one that helped put in to perspective the kind of skill people at African Wear Design possess. Retiring from scarf making, it was now time for Jen, Ryan and Nicole to get into the jewellery business. While we were sitting together in the shade, the other two volunteers and Mama Stevens got to work. Once again, it was clear that there was a lot to learn as Mama put together two double anklets in the space it took Nicole to create half of one! 
The work created by the people at African Wear Design is not only beautiful and well made, but helps a good cause. You are very welcome to visit our shop at Nyumbani Hostel to have a look at the incredible work. If you want a custom piece, let us know and we can work with the Mamas to get this created for you.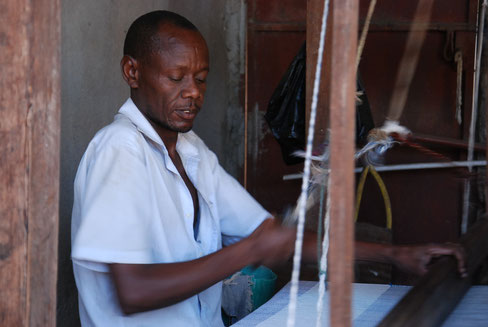 Das Projekt African Wear Design wurde ins Leben gerufen, um Frauen zu unterstützen und ihnen die Möglichkeit zu geben, für sich und ihre Familien zu sorgen. Es hat so viele Leben positiv beeinflusst. Das 2015 gegründete Projekt bietet Witwen, alleinerziehenden Müttern und jungen Frauen Nähmaschinen und einen Ort, an dem sie ihre Fähigkeiten erweitern und eigene Kleidung, Schmuck und vieles mehr kreieren und designen können. Einige Freiwillige von Viva Tanzania, Jen, Ryan und Nicole hatten das Glück, African Wear Design zu besuchen. Das Projekt selbst ist leicht zu erreichen. Es ist nur eine kurze Daladala-Fahrt und fünf Minuten zu Fuß von der Hauptstraße entfernt. Sie wurden von Mama Stevens herzlich begrüßt und fühlten sich direkt wie Zuhause, bevor sie den Arbeitsbereich besichtigten.

Dann war es an der Zeit, dass Ryan versuchte, mit einer sehr komplizierten Maschine einen Schal herzustellen. Um es freundlich auszudrücken, er war nicht besonders gut. Aber es war eine super Erfahrung um die Fähigkeiten der Menschen bei African Wear Design wertzuschätzen. Nachdem Jen, Ryan und Nicole bei der Herstellung eines Schals wenig Erfolg hatten, war es an der Zeit, sich an das Schmuckgeschäft zu trauen. Die beiden Freiwilligen und Mama Stevens saßen zusammen im Schatten und machten sich an die Arbeit. Es war wieder einmal klar, dass es eine Menge an Übung braucht. Als Mama Stevens bereits zwei doppelte Fußkettchen fertiggestellt hat, hatte Nicole gerade einmal die Hälfte einer Kette geschafft.
Die Arbeit der Menschen bei African Wear Design ist nicht nur schön und gut gemacht, sondern du unterstützt zusätzlich auch einen guten Zweck. Du bist herzlich eingeladen unseren Shop im Nyumbani Hostel zu besuchen, um dir die unglaubliche Arbeit anzusehen. Wenn du lieber dein ganz persönliches Accessoire haben möchtest, musst du uns nur Bescheid geben. Wir können dieses dann, gemeinsam mit den Mamas, für dich kreieren.