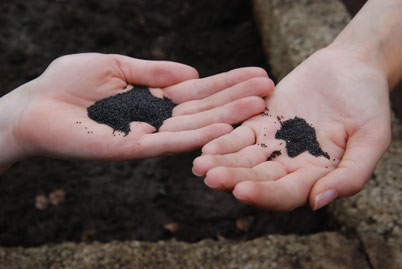 Feeling particularly fancy in our own private dala dala, we left the Nyumbani Hostel on Friday morning for the monthly community day. On the last Friday of every month, all volunteers come together to help one of the projects we work with. Pippi House is a shelter for homeless girls, women and their children that aims to provide them with an education and a better way of living. Recently, they have created their own garden where they aim to grow vegetables both to sell for a little income and to use in their journey to become a little bit more self-sustainable. We arrived at Pippi House and received a very warm welcome and lots of hugs and excitement from the children. After making our introductions and getting comfortable with everyone, it was time to get to work! The vegetable garden is at the back of Pippi House, surrounded by beautiful scenery and a little stream used for gathering water for the garden. 
 The first order of business was weeding, so it was time for our volunteers to get stuck in. The people at Pippi House were friendly and keen to help, even though it was us who had come to help them! Next, came the hoe and the rake which was quickly finished, but not before one of the strong little boy took over and showed us how we should have done it! Working with everyone at Pippi House was what made the day even better. It's always fun to get a little muddy and do some good, but it's so  better to do it while making friends
---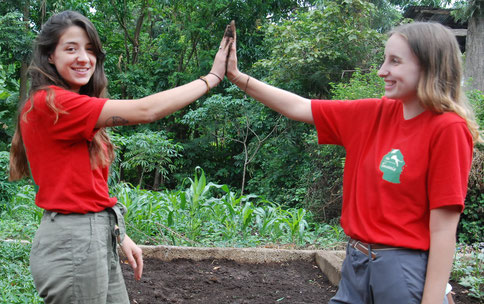 After all the seeds were planted and things were tidied up, the time had come for us to play. We had a fantastic time playing with the children, as we got the chance to exchange ideas with the girls there about things, that make them happy! One of the girls was so excited to learn how to take pictures using the camera. She wanted to learn it by herself and started to take pictures of her friends and everyone around the house using one of our volunteer's camera. After the great day full of unforgettable memories and super delicious food, we were ready to return to the hostel with a big smile on our face. 
An einem Freitagmorgen wurden wir von unserem eigenen Daladala-Bus am Nyumbani Hostel abgeholt, um den Tag gemeinsam zu verbringen. An jedem letzten Freitag im Monat kommen alle Freiwilligen zusammen, um eines der Projekte zu unterstützen, mit denen wir zusammenarbeiten. Das Pippi House ist eine Unterkunft für obdachlose Mädchen, Frauen und ihre Kinder, um ihnen eine Ausbildung und ein besseres Leben zu ermöglichen. Vor kurzem haben sie einen eigenen Garten angelegt, in dem sie Gemüse anbauen können. Zum einen, um ein kleines Einkommen zu generieren und zum anderen um ihnen den Weg zur Unabhängigkeit etwas zu erleichtern. Wir kamen im Pippi House an und alle hießen uns herzlich willkommen. Die Kinder umarmten uns und waren alle total aufgeregt. Nachdem wir uns vorgestellt und uns mit allen vertraut gemacht hatten, war es an der Zeit, sich an die Arbeit zu machen! Der Gemüsegarten befindet sich hinter dem Pippi House, umgeben von einer wunderschönen Landschaft und einem kleinen Bach, in dem das Wasser für den Garten fließt wird.
Die erste Aufgabe war das Unkrautjäten. Es war also an der Zeit für unsere Freiwilligen, sich an die Arbeit zu machen. Die Leute im Pippi House waren super freundlich und waren sehr bemüht uns zu helfen, obwohl wir ja eigentlich gekommen waren, um ihnen zu helfen. Danach kamen Harke und Rechen zum Einsatz. Ein kleiner fleißiger Junge zeigt uns, wie man mit den Geräten richtig umgeht. Dadurch waren wir ruckzuck fertig. Die Zusammenarbeit mit jedem Einzelnen hat den Tag im Pipi House super schön gemacht. Es macht immer Spaß, sich etwas dreckig zu machen und etwas Gutes zu tun. Wenn man dabei dann auch noch neue Freundschaften knüpft ist es natürlich umso schöner!
Nachdem wir alle Pflanzen eingepflanzt hatten und alles wieder aufgeräumt war, war die Zeit zum Spielen gekommen. Wir verbrachten eine tolle Zeit mit den Kindern und hatten dabei die Gelegenheit herauszufinden, wovon die Mädchen träumen und was sie glücklich macht. Eines der Mädchen wollte unbedingt lernen, wie man Bilder mit einer Kamera schießt. Sie wollte es sich selber beibringen und fing sofort an, mit einer Kamera unserer Freiwilligen, Fotos von ihren Freunden und allen im Haus zu machen. Nach einem großartigen Tag voll mit unvergesslichen Erinnerungen und super leckerem Essen, waren wir bereit, mit einem Lächeln im Gesicht zum Hostel zurückzukehren.