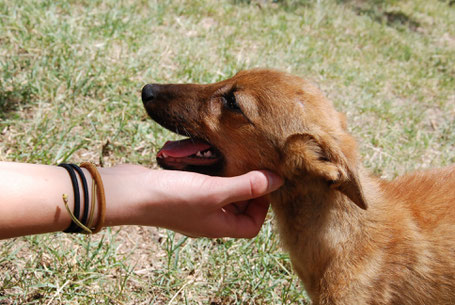 Dogs of Africa' – Hidden amidst the stunning landscape of Arusha National Park, with Mt.Meru offering a looming constant presence in the backdrop, Mbwa wa Africa Animal Rescue is a true heaven for all neglected furry friends. Greeted by founder Sandra Kliegelhoefer, a German native, we were immediately introduced to the first of the rescue center's adorable occupants: Tommy. Tommy is 4 months old, but due to being mistakenly given a pesticide formula to rid her of fleas, this made her incredibly sick and she soon stopped growing, with even walking proving to be a near impossible task. Thanks to some tender loving care, and the right medicine, Tommy is already back on her feet, gaining weight and ready to find a new home.
Tommy proved to be just one of the 40 dogs, and one cat, currently calling Mbwa Wa Africa home whilst they recover and, hopefully, find new homes. Most have harrowing stories; tales of abuse, neglect and downright cruelty that would sadden all who hear them, but Mbwa Wa Africa continue to battle against the odds to save all furry friends who are in need of the love they deserve. Aside from Tommy there is the wizened Babu, the regal Taji (she really lives up to her name, which means 'queen'), the energetic Gordon, which couldn't be stopped by running around despite having only two functioning legs. And many, many more heartwarming souls that simply melted our hearts. I could write many more pages on what Mbwa Wa Africa do and why they deserve your support and help in their mission, but I do have a word limit!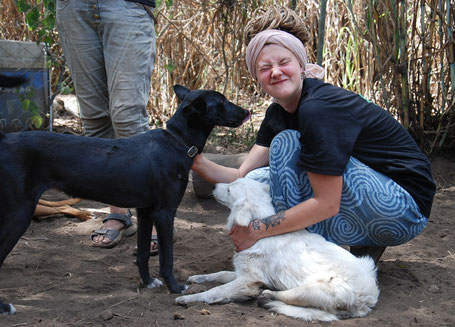 We will definitely write more about them in the future, and I implore you to visit their website at http://mbwa-wa-africa.org/ so you can learn more about them, offer your support and maybe even add one (or two, or three..) of their adorable occupants to your family!
 Tommy ist nur einer der 40 Hunde und einer Katze, die derzeit im Mbwa Wa Africa auf ein Zuhause warten. Die Meisten von ihnen haben eine schreckliche Vergangenheit. Missbrauch, Vernachlässigung und regelrechte Grausamkeit, die alle, die sie hören, traurig machen. Gerade deshalb kämpft Mbwa Wa Africweiterhin so viele pelzigen Freunde wie möglich zu retten. Um ihnen die Liebe zu geben, die sie verdienen. Neben Tommy gibt es noch den Opa "Babu", die königliche Taji (sie macht ihrem Namen alle Ehre, was "königlich" bedeutet) und dem energiegeladenen Gordon, welcher sich trotz zwei kaputten Pfoten nicht davon abhalten lässt wild herum zu toben. Darüber hinaus gibt es noch viele, viele weitere herzerwärmende Seelen, die auf ein liebevolles Zuhause warten. Ich könnte noch viele Seiten darüberschreiben, was Mbwa Wa Africa macht und warum diese eure Unterstützung und Hilfe bei ihren Missionen verdienen, aber leider habe ich ein Wortlimit! In Zukunft wirst du hier auf jeden Fall noch öfter von dieser Organisation lesen. Ich kann dir ihre Website (http://mbwa-wa-africa.org/) nur wärmstens ans Herz legen. Hier kannst du mehr über die Organisatorin erfahren, deine Unterstützung anbieten oder vielleicht sogar einem (oder zwei oder drei) ihrer liebenswerten Bewohner ein neues Zuhause schenken. Inmitten der atemberaubenden Landschaft des Arusha National Park mit dem Mt. Meru im Hintergrund liegt das Mbwa wa Africa Animal Rescue. Es ist ein wahrer Zufluchtsort für alle vernachlässigten, tierischen Freunde. Begrüßt wurden wir von der Gründerin Sandra Kliegelhoefer, eine gebürtige Deutsche. Diese machte uns sofort bekannt mit einem der liebenswerten Bewohner des Rettungszentrums: Tommy. Tommy ist 4 Monate alt. Fälschlicherweise wurden ihr giftige Pestizide gegeben, um sie von Flöhen zu befreien. Dadruch wurde sie unglaublich krank und hörte auf zu wachsen. Selbst das Gehen erwies sich als eine nahezu unmögliche Aufgabe. Dank liebevoller Zuwendung und der richtigen Medizin ist Tommy heute wieder auf den Beinen, nimmt immer mehr an Gewicht zu und bald bereit ein neues Zuhause zu finden.