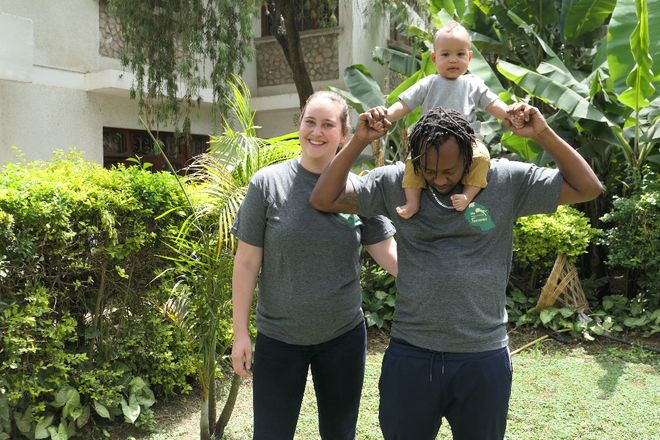 Nyumbani Hostel – A Love Story
All great stories start somewhere, and often it's because of love. We can proudly say this is exactly how the ever-growing Nyumbani family came around – thanks to the love of two people, and how that blossomed into something more than a partnership or business plan; how it became a mighty tree expanding it's roots and offering nourishment and protection to many.
Tizia and Tini are the owners and founders of Nyumbani Hostel, Arusha. This story starts in 2010 when German national Tizia took the leap and came to Tanzania for the first time, spending time in Dar es Salaam with the volunteer program Weltwaerts at a Kindergarten. Their she offered her helping hand to shape the lives of future generations. The year she spent here in Tanzania a deep passion started for learning the culture and all the country has to offer. Tizia returned in 2013 to study at the University of Dar es Salaam, gaining a BSC in Cultural Anthropology, with her thesis about stereotype and images of the Maasai in media and tourism. It was at this time, a week after her return, that she met Tini and something we all seek in life happened – love blossomed. Love for Tini and Tanzania made moving to the country a much easier choice, so in 2015 Tizia returned once again and together their shared passion for opportunity, education and exploration led to the creation of Viva Tanzania and Nyumbani Hostel.
Nyumbani Hostel started almost accidentally, after a venture into Airbnb proved successful during a time when Arusha didn't have many places for tourists to stay. The success and joy in hosting travelers, coupled with their ideas for Viva Tanzania, led to Tini and Tizia officially opening Nyumbani Hostel, albeit on a much smaller scale at first. They started out modestly, with only one bed available, and slowly expanded at every available opportunity. Word soon spread about the little, but ever-growing hostel and their ability to combine a home stay experience with incredible activity based trips. They soon hired a manager, and increased their staff of local people to help them reach the point they're at today; a unique hostel, run by local people, offering amazing trips and experiences whilst still retaining the feeling of being at home.
So if you, like us, are seeking a place where home comforts meet adventure, then we urge you to come and visit the whole family here at Nyumbani Hostel– your home far away from home!
Nyumbani Hostel - Eine Liebesgeschichte
Alle großartigen Geschichten haben irgendwo ihren Ursprung. Häufig liegt dieser in der Liebe. Wir können mit Stolz sagen, dass genau das der Grund für unsere stetig wachsende Nyumbani Familie ist. Durch die Liebe zweier Menschen, ist mehr als nur eine Partnerschaft oder ein Geschäftsplan entstanden. Tizia und Tini sind die Eigentümer und Gründer des Nyumbani Hostel in Arusha.
Die Geschichte hat im Jahr 2010 begonnen, als Tizia (gebürtige Deutsche) den Sprung wagte und zum ersten Mal nach Tansania reiste. Ihre Zeit verbrachte sie in Dar es Salam, wo sie an einem der Freiwilligenprogramme von Weltwärts in einem Kindergarten teilgenommen hat. Hier half sie das Leben künftiger Generationen positiv zu gestalten. Nach einiger Zeit in dem Land entwickelte sie eine tiefe Leidenschaft für die Kultur und generell für das ganze Land. 2013 kehrte Tizia zurück nach Tansania um an der Universität von Dar es Salaam zu studieren. Hier machte die ihren Bachelor in dem fach Kulturanthropologie. Ihre Bachelorarbeit schrieb sie über das Bild der Massai in den Medien und im Tourismus. Die Rückkehr nach Deutschland nahte. Eine Woche bevor es nach Hause ging, lernte sie Tini kennen und es passierte etwas, wonach wir alle im Leben suchen: Sie verliebten sich.
Die Liebe zu Tini und zu Tansania machte die Entscheidung für den Umzug nach Tansania um Einiges leichter. 2015 war es dann soweit. Beide teilten eine Leidenschaft für Chancengleichheit, Bildung und besondere Erlebnisse. Dadurch entstand die Organsation Viva Tanzania und das Nyumbani Hostel. Die Sache mit dem Nyumbani Hostel war irgendwie ein Selbstläufer. In Arusha gab es zu dieser Zeit nicht viele Übernachtungsmöglichkeiten für Touristen. Über Airbnb hatten sie damals nur ein Zimmer vermietet, was nahezu immer ausgebucht war. Die Vermietung von Unterbringungsmöglichkeiten für Touristen schien erfolgsversprechend zu sein. Darüber hinaus bereitete ihnen die Beherbergung von Touristen große Freude. Gepaart mit ihren Ideen für Viva Tanzania, beschlossen Tini und Tizia das Nyumbani Hostel offiziell zu eröffnen - Wenn auch zunächst in viel kleinerem Rahmen.  Von einem verfügbaren Bett erweiterte sich ihr Angebot immer weiter. Das kleine, aber stetig wachsende Hostel wurde immer bekannter. Vor allem auch durch die Möglichkeit seinen Aufenthalt in Arusha mit vielen spannenden Erlebnissen verbinden zu können. Bald wurde ein Manager eingestellt und immer mehr Mitarbeiter.  Es entstand ein einzigartiges Hostel, das von Einheimischen geführt wird und tolle Ausflüge und Erlebnisse bietet, ohne das Gefühl zu verlieren, zu Hause zu sein.
Falls du also genau so einen Ort suchst, der Abenteuer und Wohlfühl-Atmosphäre verbindet, solltest du uns – die Nyumbani Hostel Familie – bald besuchen kommen! Wir bieten dir ein Zuhause, weit entfernt von deinem Zuhause :)